ALL-IN-ONE Accounting & Inventory software for china
STOQO,Australia's best inventory management software localized for China.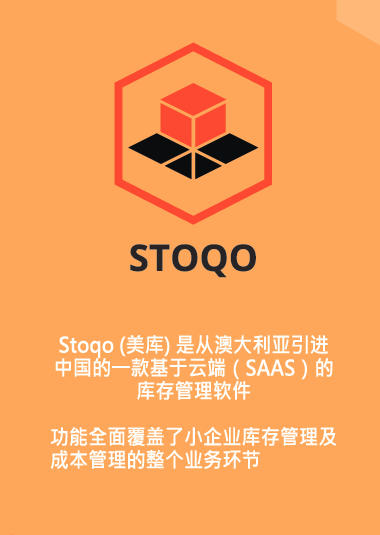 Why you'll love STOQO
1.Lower your costs
When you lack efficient inventory management, you incur several extra expenses such as overtime, insurance costs, product depreciation or expiration, and general stress and fatigue.
2. Frees up workers time
Stoqo has a range of automation features to free up workers time-such as the automatic generation of SKUs to manage extensive product lines, automated product data generation, streamlined stock take with fast barcode scanning and more.
3. Keep a growing business organized
As your business grows, things will only get more chaotic and difficult to manage. Intuitive inventory management software like Stoqo can integrate quickly with your existing business as it scales upward.
4. Improves cash flow
If you're manually managing your inventory, it's easy to over-purchase inventor and tie up too much of your cash. Stoqo helps you manage your inventory to reduce excess and thus increase your cash reserve.
5. Let's you focus on growth.
Adding more automation to your inventory management means that you are spending less time resolving errors caused by delayed ordered or tracking inventory and more time on what matters most, growing your business.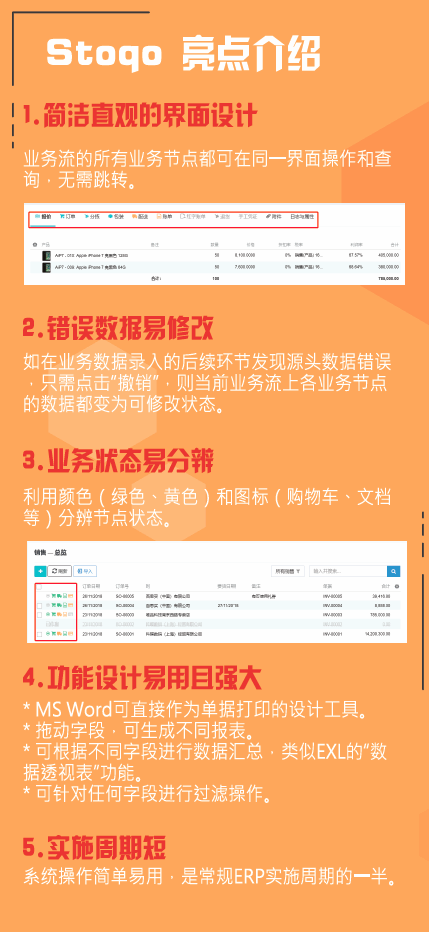 Key features:
功能清单
Purchasing
Intelligent purchasing decisions allow you to stay competitive and profitable. In STOQO your entire supplier purchasing history is recorded along with correct cost allowing you to create the right pricing strategy for your products.
Selling
Comprehensive sales functionality will ensure you never lose another sale. Track customer orders from quote, to pick, pack and shipment. Split orders for partial shipment or create a backorder and complete shipment when stock arrives. Utilize our flexible Drop Shipment functionality.
Manufacturing
Sophisticated manufacturing module helps you to track the cost of raw materials and labour in production of finished goods. Easily create multilevel Bill of Materials/ Subassemblies as well as kits and auto-assembled inventory.
Accounting
The days of manual double entry accounting are in the past. STOQO seamlessly integrates with MEGI Cloud Accounting software for real-time inventory management. See who owes you money and how profitable you are with a click of a button.
Inventory Control
With inventory being your main asset it is important to know what is in stock, on order or running low. Conveniently set automatic stock reorder points, perform adjustments and stay on top of all stock movements in your business.
JOIN CHINA'S GROWING RETAILERS AND SMALL MANUFACTURESRS
Find a Stoqo Partner in China
www.stoqo.cn
DESIGNED IN AUSTRIALIA
Stoqo and Megi Cloud Accounting
The beest way to manage Inventory in the Cloud
14 Day Free Trial
All features are available in the trial version.
---
Do you want to publich your ads with Avvicina?
For more informations please contact us
 info [@] avvicina [.] com
想了解更多?
要发布招商信息?
请联系  info [@] avvicina [.] com
By